So, that's what this is all about – you want to know how to create a WordPress blog! Great! This read is exactly what you were looking for, the exact steps for you to start your own website using WordPress! Well, the good news is, it is extremely easy and you can create a WordPress website/blog in less than a couple of minutes. So, why don't we get started? But before that, it's important that you know why the best place to start a blog is WordPress!
Why Should You Create a WordPress Website?
Deciding to start your own website is the first step to achieving your goals! And that too to build a WordPress website only makes the overall process easy, effective and promising, So, here are a few benefits you get when you set up your own WordPress blog,
Highly customizable: Make all the necessary changes you need at any time of the day – all it takes is a few clicks and a bit of strategy planning!
User-Friendly: You can create a WordPress website within minutes – beginner or expert, it doesn't matter. Also, there's no coding knowledge required to build a WordPress website.
Multiple Themes & Plugins: The WordPress community is so huge that you can choose from available themes and plugins for your website. There's a plugin available to meet every single need of yours, right from adding a contact form to displaying customized website popups, you've got everything you need! Your WordPress blog design plays a significant role in grabbing visitors' attention.
Mobile Responsive Websites: Mobile responsiveness has become an important metric now and could influence your Google rankings to a great extent. Luckily, all WordPress themes are responsive and you don't have to be worried about the same!
Extended Support – Since WordPress is a huge open source community, you get support from the WordPress user community around the world.
Quick Stat: WordPress is the most common use CMS platform. In fact, more than 30 percent of websites use WordPress.
So, that's pretty much about the benefits part. Let's move on to see how you can start your own website with WordPress.
How to Create a WordPress Blog in 3 Simple Steps
Before we start, just to let you know how exciting this is going to be, the official website of the game Angry Birds was built using WordPress. And stands as one of the best WordPress blog examples to date.
So back to where we left, the steps to create a WordPress website.
Step 1: Domain Name & Web Hosting Service
This is probably the first thing you'll have to do when you want to build WordPress sites. Consider buying a domain name and opting for a hosting service as the initial baby steps to start your own website.
Because it's quite impossible to proceed without a domain name and a hosting service.
We personally recommend that you go for Bluehost because you can get both the things are done at the same time – the domain name as well as the hosting plan. Else, you'd have to purchase a domain name elsewhere and link it with your hosting solution provider.
Also, Bluehost is quite affordable, it's easy to understand and use which makes it one of the best hosting providers, especially for beginners.
Bonus: You get the domain name free of cost when you sign with Bluehost!
So, this is how the process is going to be,
Head to the Bluehost website and you'll be able to find the pricing plans for WordPress website hosting at the bottom of the webpage.
When clicked, you'll come across three different pricing plans starting from $3.95 per month to $6.95 per month.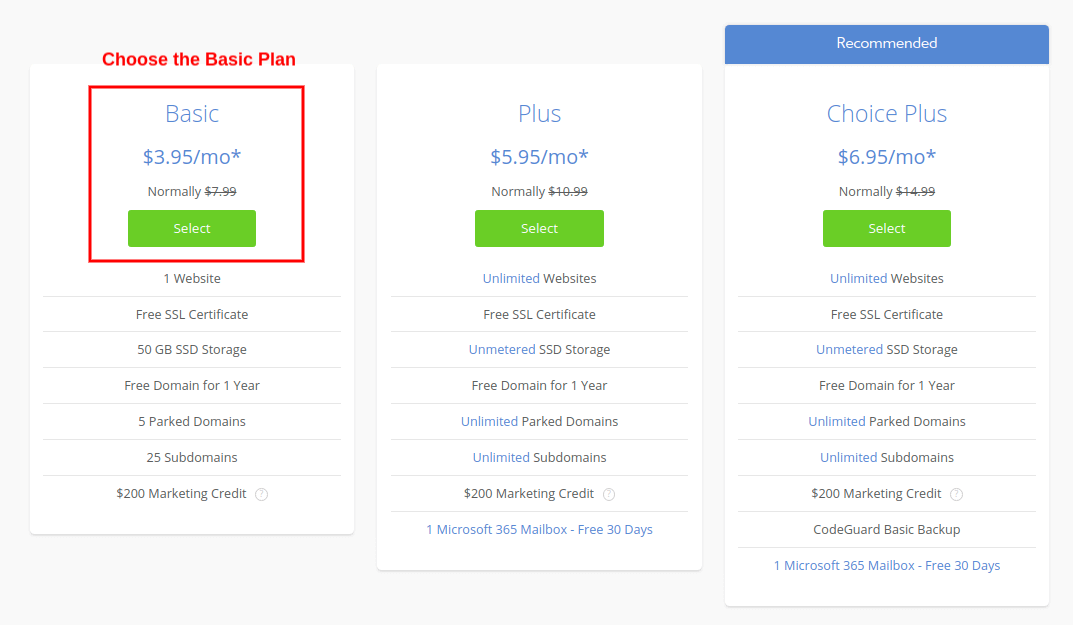 It recommends that you choose the Basic plan. You get a free SSL Certificate, a free domain name valid for 1 year, and 50 GB SSD Storage – that's pretty much you'd need as a beginner.
When you click "Select", you'll go to the next page.
This is where you have to choose a domain name (you'd probably be having one on your mind).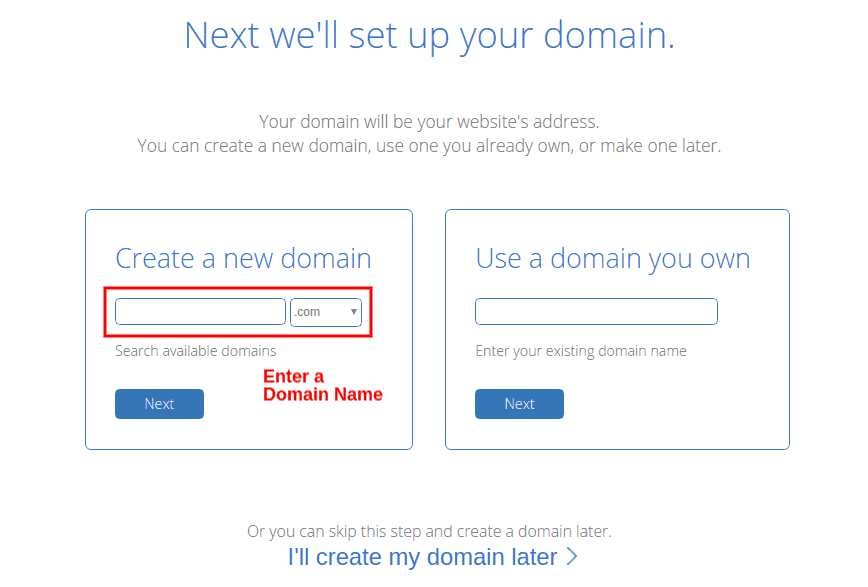 You can search and choose from the available domains and extensions. If you've already got a domain of your own, enter the domain name and click next.
Also, if you specifically don't have a domain name on your mind, you can skip this process and save it for later!
Once you've clicked next, it's just a few steps left. You'll have to enter your basic details, choose package information (how long you want the hosting service for), add any add-ons if you need to, and click the "Submit" button.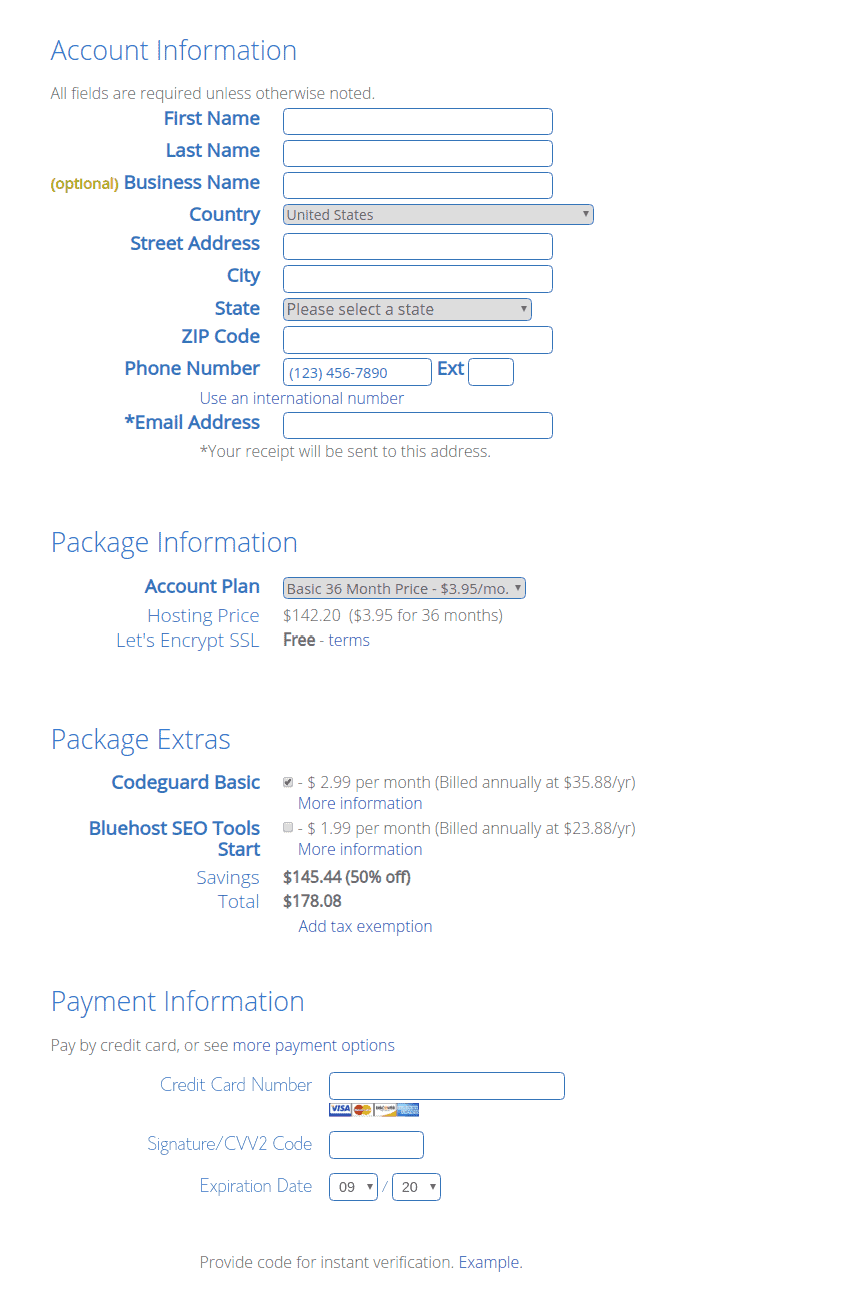 When you've clicked "Submit", the payment will be processed and now you would have successfully purchased a domain name and a hosting service for your website!
Step 2: Installing the WordPress Software
The next important step you'd have to take to set up a blog on WordPress – installing the WordPress software (that's absolutely free).
Log in to Bluehost. Attend the tour if you need to (since this is the first time you're logging in) and click the "My Sites" tab seen on the top left corner of your screen.
And click the "Create Site" Button on the right corner of your screen to proceed.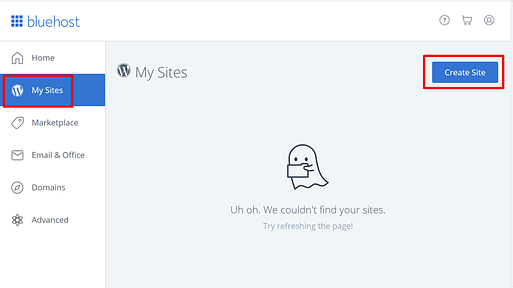 You'll be asked to enter your website's name and the tagline.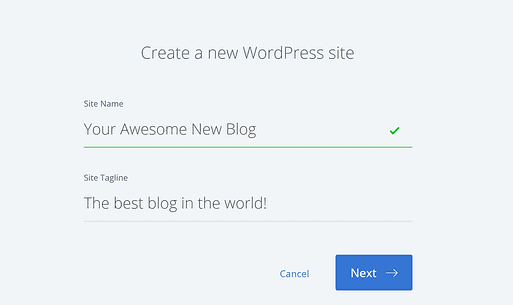 You'll be taken to your blog website's dashboard once you've completed the process!
Step 3: Draft Your First Blog
You're all set to create your first WordPress blog now. Just after, you look at the dashboard, you'll be able to see the "Posts" tab on the left corner.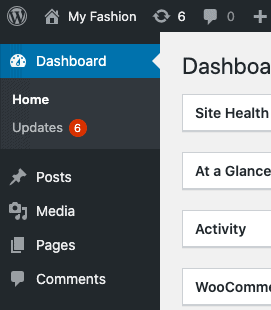 When you click on the Posts tab, it's further expanded and you'll be able to see the "Add New" option amongst a couple of other options.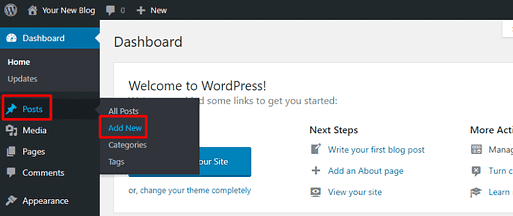 When you click the Add New button, you'll be taken to the WordPress Editor. This is where you'll actually be drafting your first post. Your WordPress editor will somewhat be looking like this,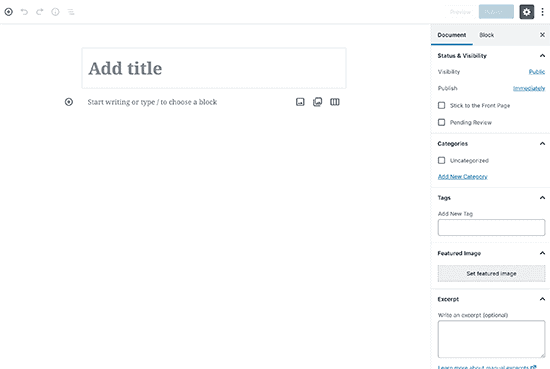 You can simply start typing your content, add title tags, add images, and do a lot of other things. Also, since this is a WYSIWYG editor (what you see is what you get), you literally need no coding knowledge to work on this! If you're looking for more details as to how you can use the editor to draft your first blog, you can find them in this read.
When you've completed your draft, you can set up a custom URL and publish your blog in a couple of minutes.
And that's how you create a WordPress blog – it's too easy right?. The further steps would be to look into your website's SEO and other important factors. Speaking of which, you should also be learning as:
How you can install a theme for your WordPress website
All you've got to do is, click the "Appearance" tab. You get to see on the left-hand side of your WordPress dashboard.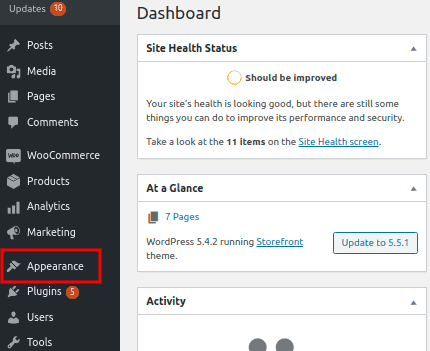 You can find the menu getting expands. Choose "Themes" and you'll be able to see a lot of themes based on categories. Such as Free, Popular, and Latest as shown below.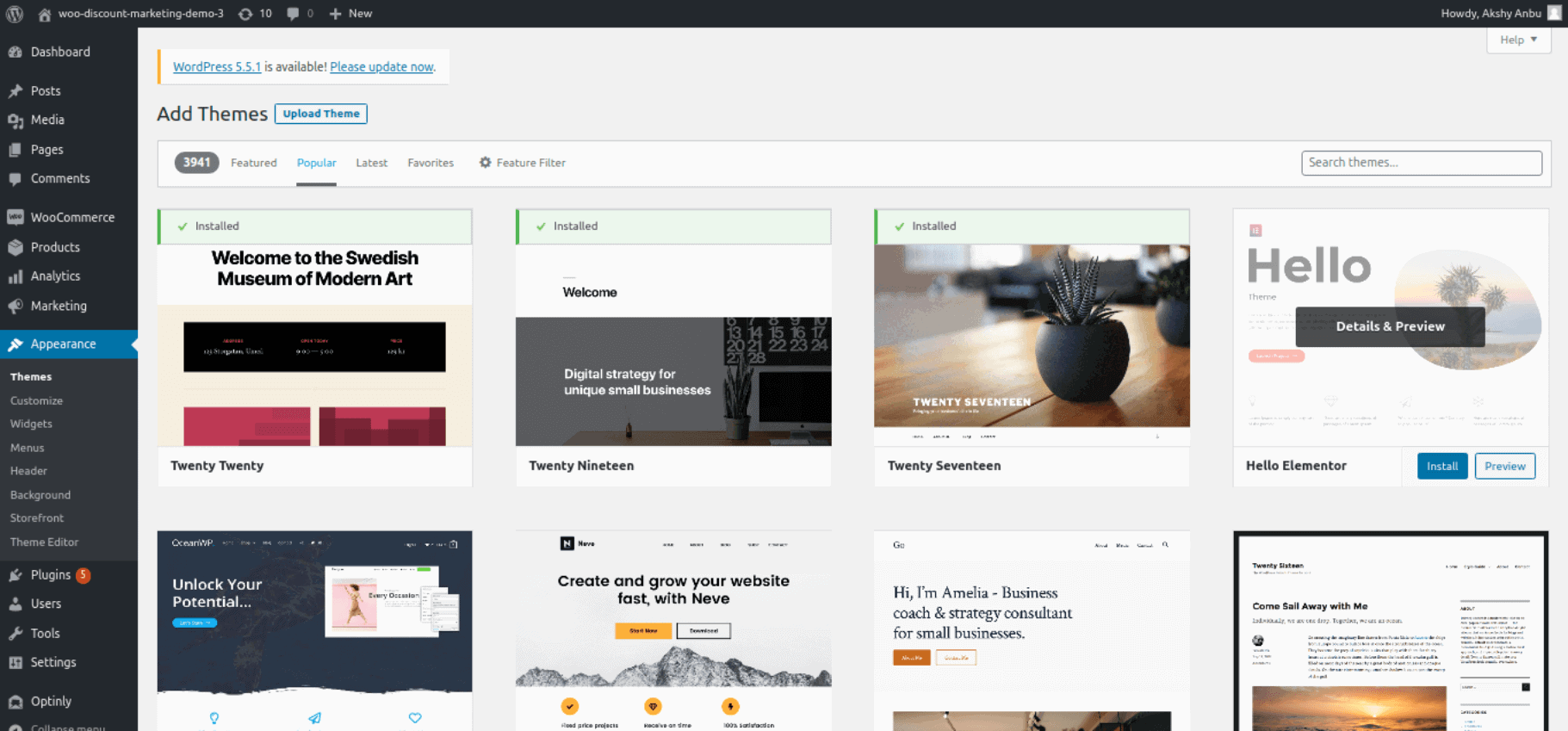 You can simply hover over the theme you like and have a preview or Install it for your WordPress website. Or if you've already purchased a theme, simply upload and install the ZIP file by clicking the "Upload Theme" button.
If you're quite not about what theme you should be using for your website, this should be a good start! You can also find a lot of ideas like:
Like we said, a good WordPress blog design plays a crucial role in helping your business grow!
And here's another quick tutorial about how you can install a new plugin for your WordPress website.
NB: Since this is probably the next scenario you might come across, we thought you might find this useful.
To do the same, head to your WordPress dashboard and click the "Plugins" tab. You'll get the option to "Add New" plugins.

You'll have a search bar where you can simply search by entering the keyword of the plugin you're looking for. For example, If you're searching for an email list building plugin. You probably have Optinly on your mind. You can simply type the same on the search bar. You'll have results displayed on your screen as shown below.

With that done what's left is to Click -> Install -> Activate.
Since this is a quite hassle-free process and you'll be able to do it on your own. We didn't want to go deep into it! As for how you can activate Optionally, you can find the instructions on this in-depth guide!
So, that's pretty much it as to how you can create your own website and come up with the first WordPress blog!
It's easier than said and you shouldn't take more than 10 or 15 minutes to get it done. (If you have your content ready 😉)!
Also, let us know if you've got any queries on this – we'd be glad to help you out!
Good luck with your first blog!


---